Track and Control Your Fleet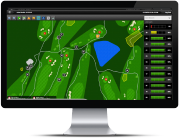 We offer the industry's leading golf cars and have developed a product to save your course money.
YamaTrack offers so much more than just security and GPS – it's a comprehensive system that allows you to set up geofences to protect eco-sensitive areas, manage your entire operation including the pro shop, cart barn, restaurant and maintenance equipment, and connects seamlessly with your point-of-sale system. It even includes a mobile app branded for your course.
And just to make it as easy as possible to begin enjoying all the perks, we offer simple leasing with Yamaha's in-house financing.
Car Control
Set geofence zones to control speed and car location on your course.
Use the Shutdown feature to prevent losses by day, and the Lockdown feature for better overnight security.
Monitor amp hours and car battery conditions automatically to improve fleet rotation and maximize battery life.
Monitor pace of play to assist with scheduling rounds and optimize marshall activity.
Use the car tracking feature to show car location history.
Control car speed for DC models.
Back Office
Manage your tee sheet in the clubhouse, in the cloud, or wherever you choose.
Manage your entire operation including the pro shop, cart barn, restaurant, and maintenance building from your favorite mobile device with our web-based system.
Integrated leasing with Yamaha's in-house financing available, enabling a seamless transaction.
Built-in point of sale system allows you to manage all customer information and inventory easily.
Player App
If you have a Yamaha fleet, then we've already built your mobile app for you. Activating the app for your course is easy and convenient, and the mobile-based software allows your players to navigate their round no matter where they are on the course or in the game. The YamaTrack Player App assures player support is just around the corner, so they can spend more energy on their game.
Customize your course's mobile player app with your logo.
Accurate course diagrams and the GPS Precise Distance to Pin feature enables players to gauge their shots, for more holes-in-one than ever before.
Food and beverage ordering from the course means a satisfying meal or refreshing beverage is never far away.