Yamaha Golf Car Home Slide Carousel
WITH YAMAHA, ALL PATHS
LEAD TO COMFORT.
With Yamaha, you can expect the most comfortable and luxurious ride, every time. With industry-leading Drive2 features including the widest seats on the market, the largest occupancy space and a stylish, automotive dash, you simply will not want to ride any other way.
Yamaha Golf Car Comfort Carousel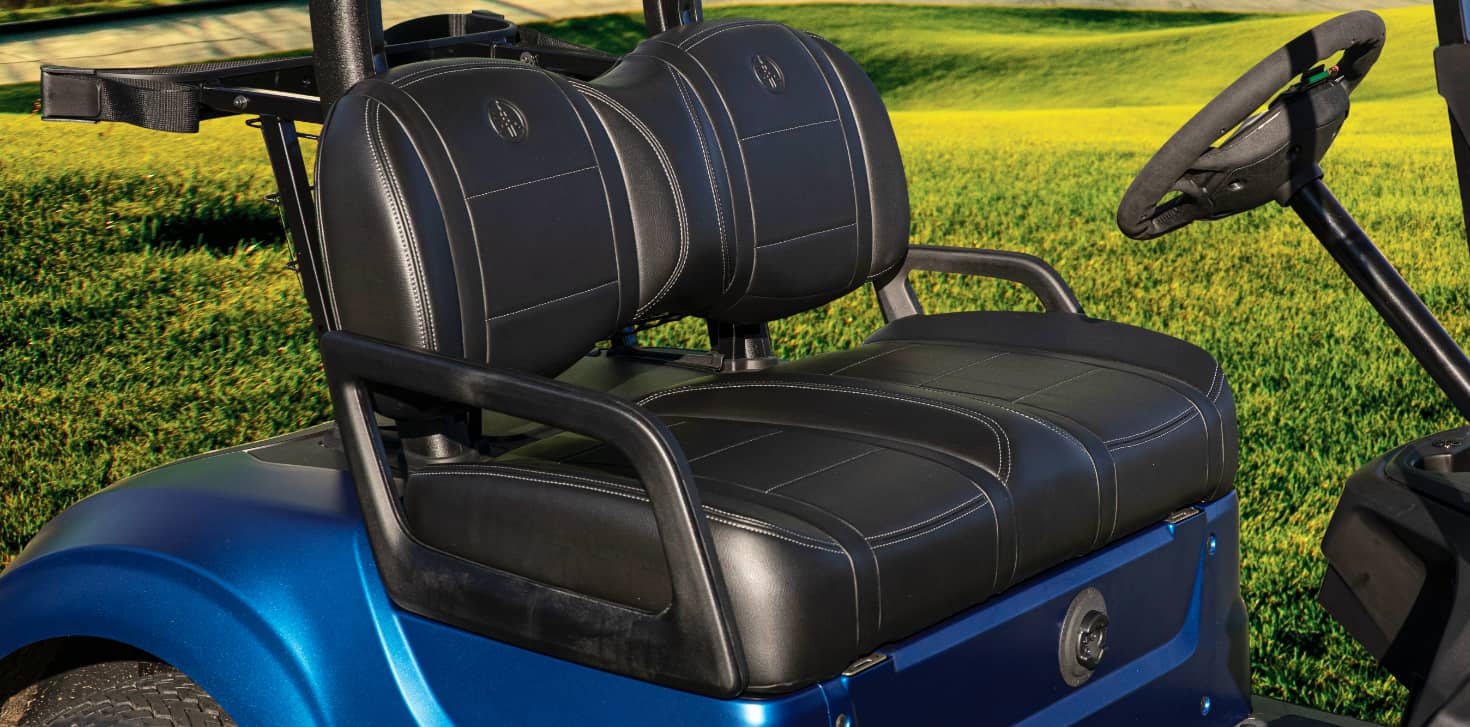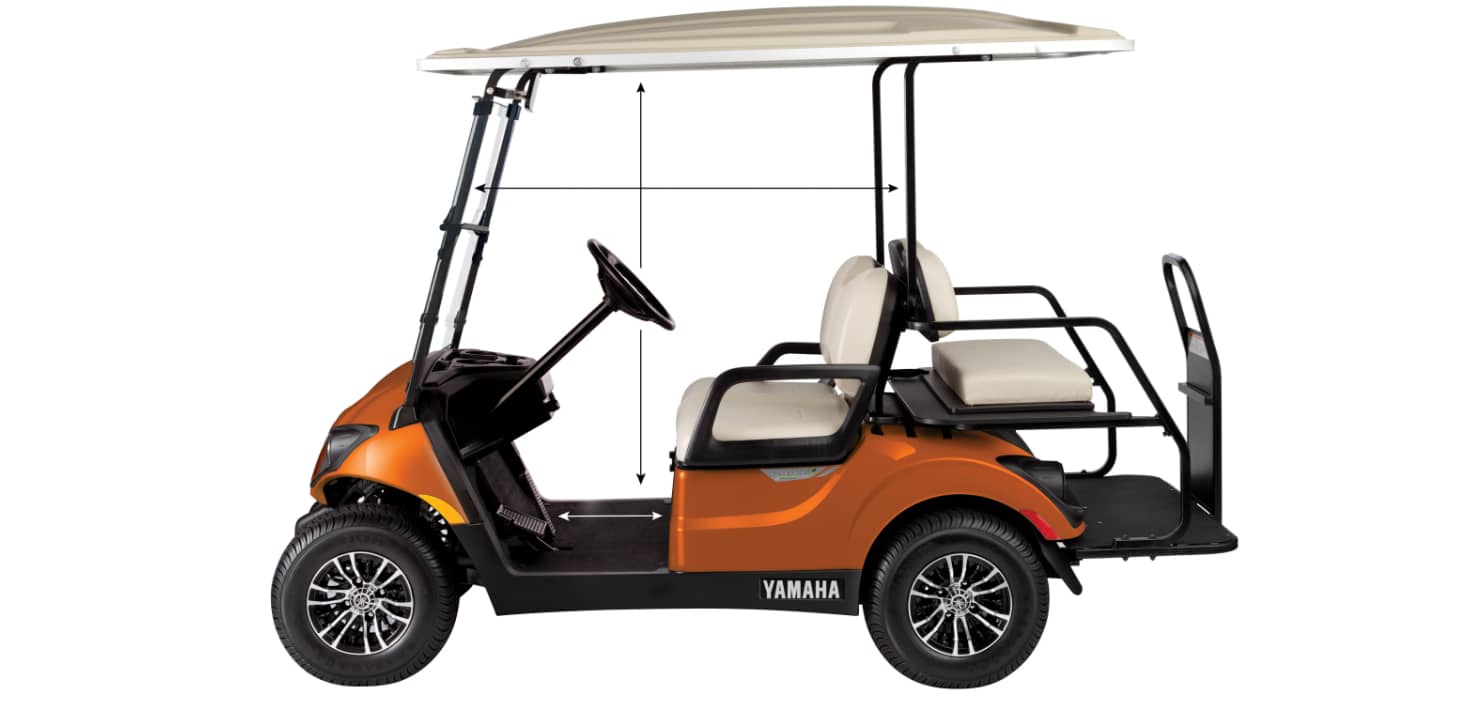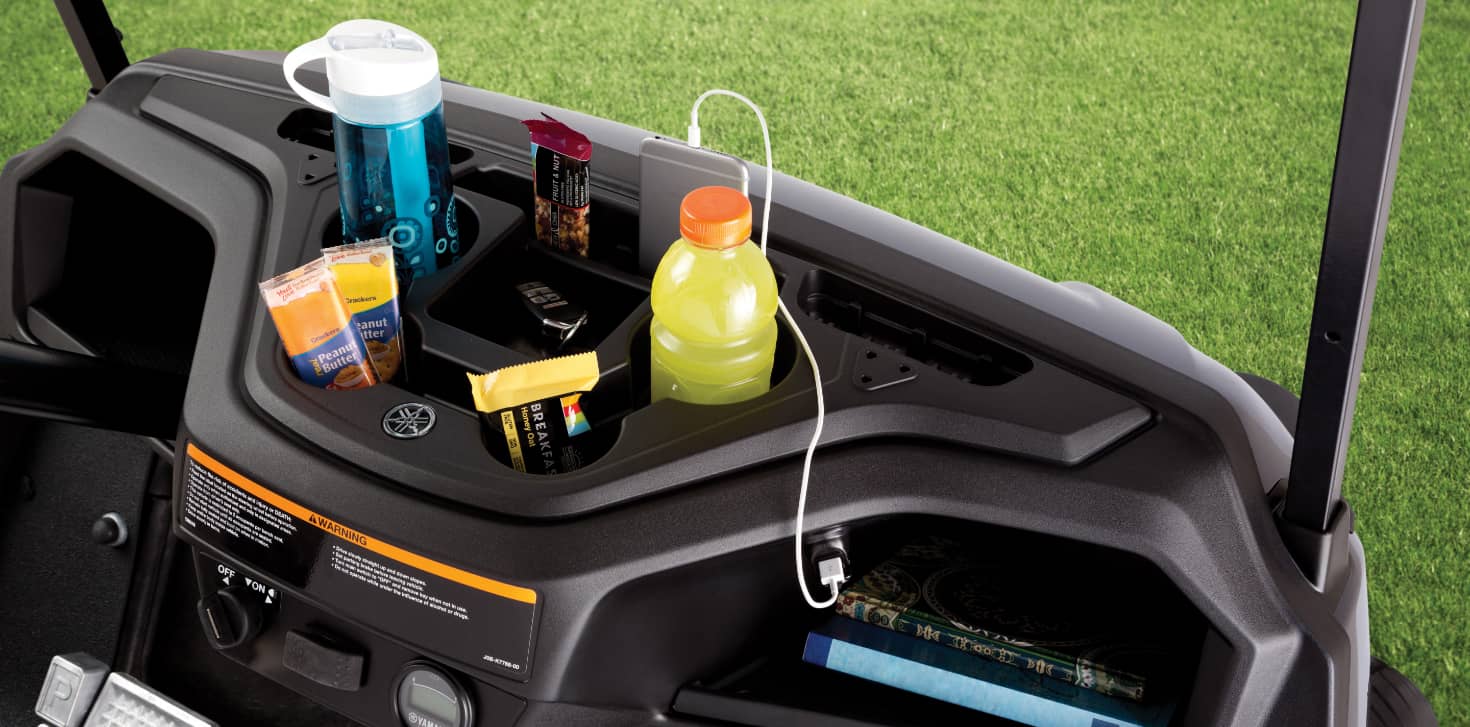 REFUEL OR RECHARGE?
Yamaha not only delivers the power you want, but the power you demand for every kind of ride. With the industry-exclusive QuieTech EFI and PowerTech AC models, you are promised the power needed to get the job done, whether you opt for gas or electric.
A REPUTATION FOR INNOVATION.
Backed by decades of innovation and performance, Yamaha designs with every last detail in mind. Yamaha offers the first Independent Rear Suspension in the industry on both the QuieTech EFI and PowerTech AC cars. Plus, other modern leading advances like the AGM and FLA battery options put Yamaha in a class all its own.
Yamaha Golf Car Comfort Carousel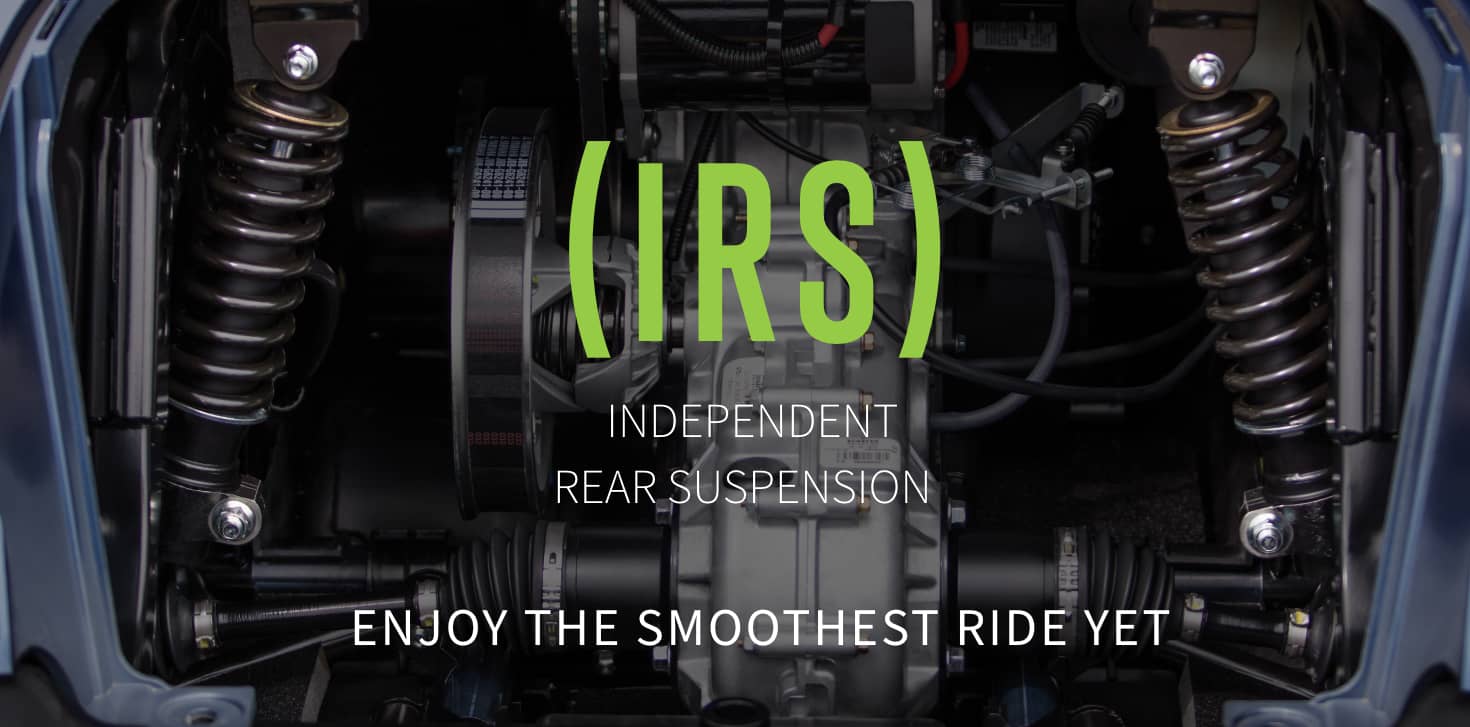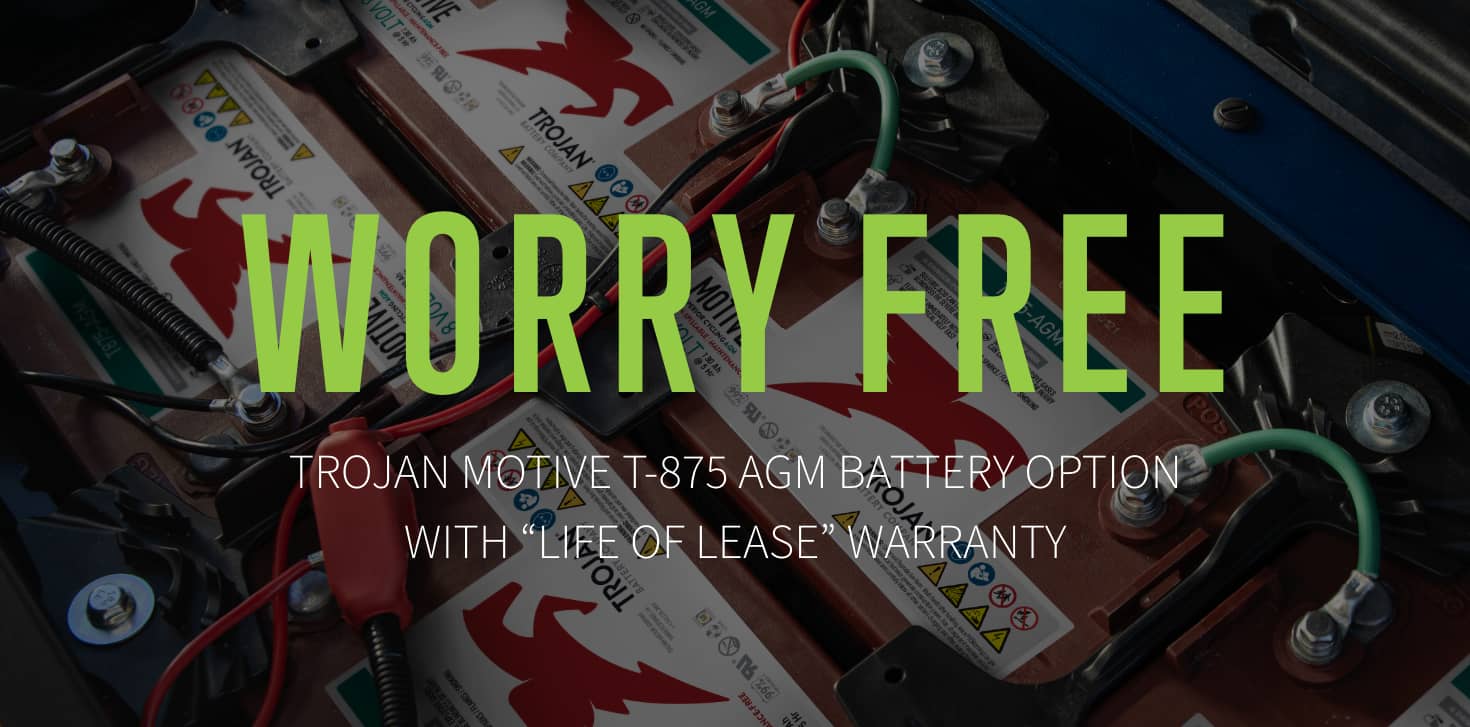 ENJOY YOUR YAMAHA
FOR YEARS TO COME.
Yamaha is a name and brand you can trust. With comprehensive warranties and in-house financing plans, purchasing a Yamaha is not only an investment in power and performance, but also one with the ultimate peace-of-mind.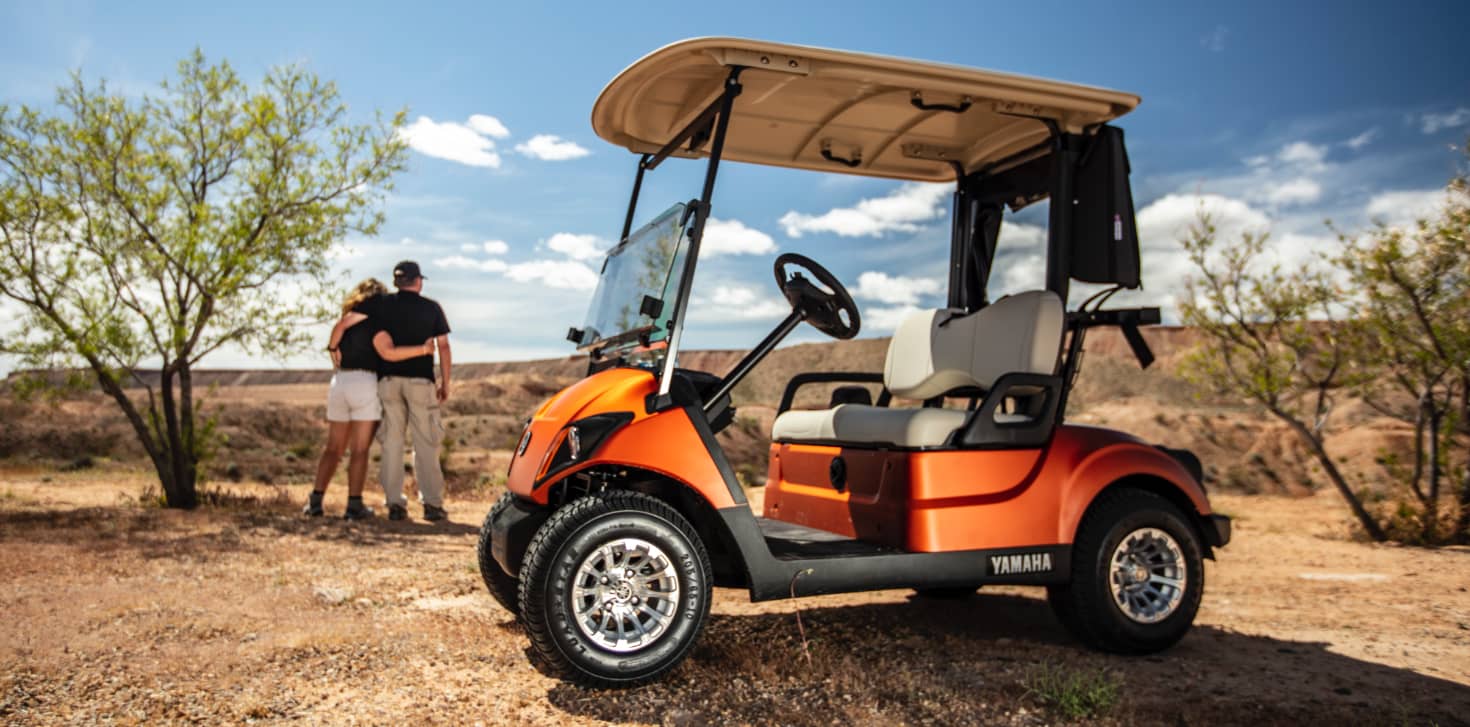 DON'T EXPECT IT. DEMAND IT!

MUST HAVE ACCESSORIES
When it comes to your new Yamaha golf car, using Yamaha Genuine Parts and Accessories ensures they run the same as day one. In fact, the same team of engineers that designed your Yamaha golf car worked hand-in-hand with Yamaha product planners to guarantee our accessories look right, fit right and perform right.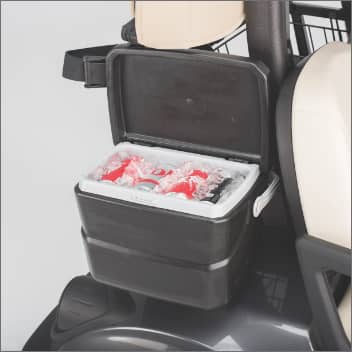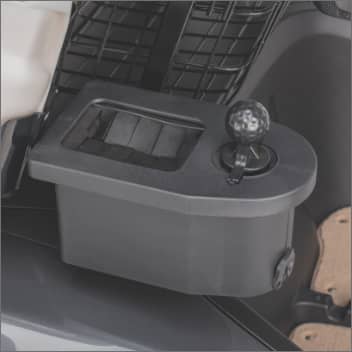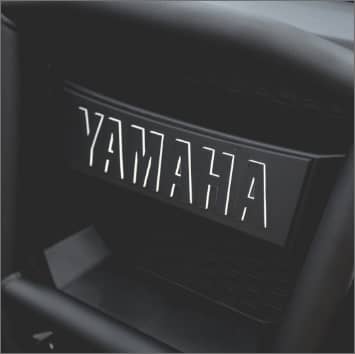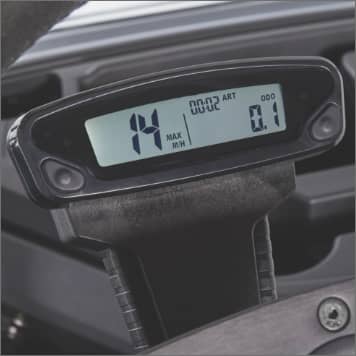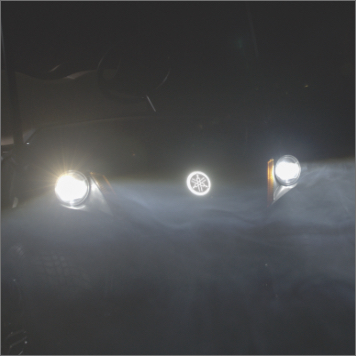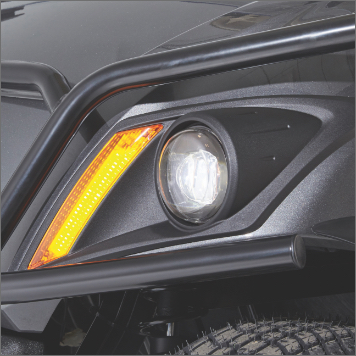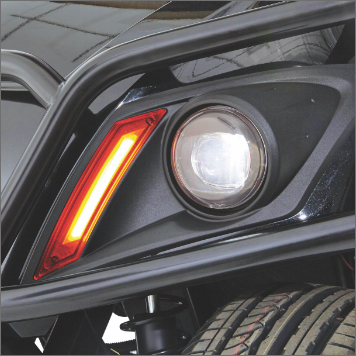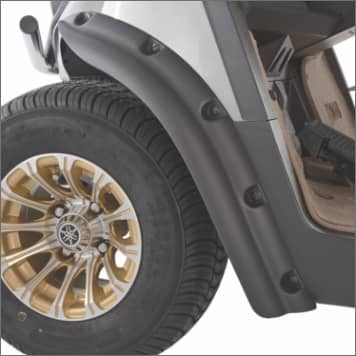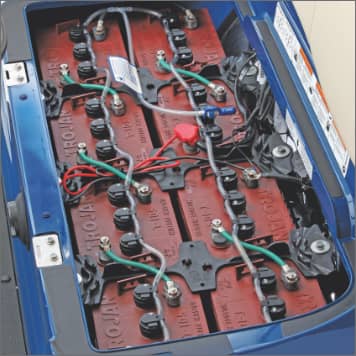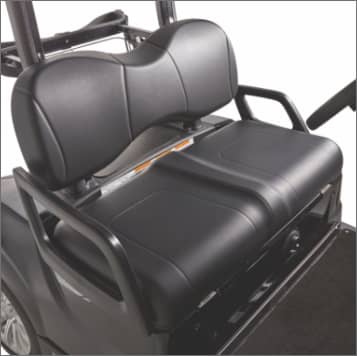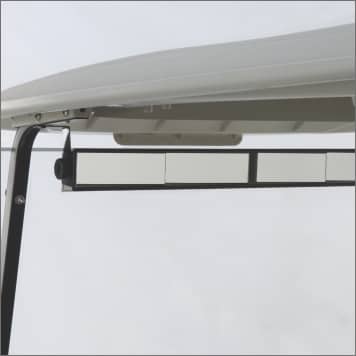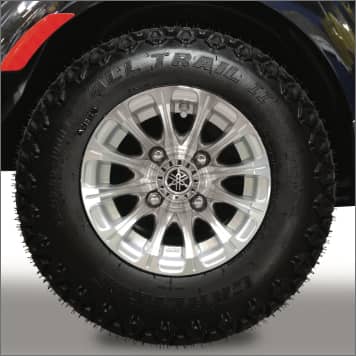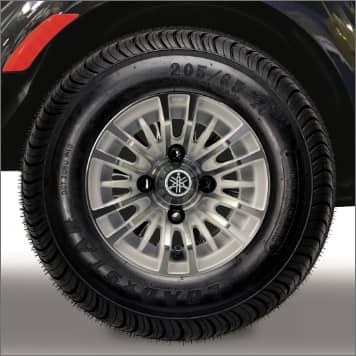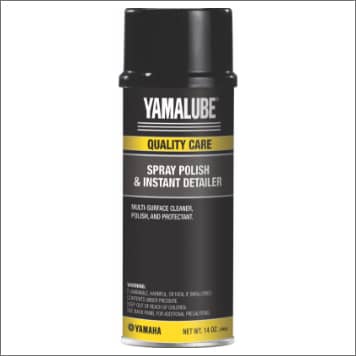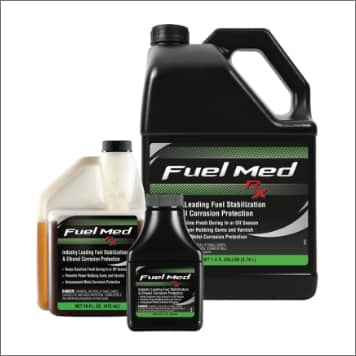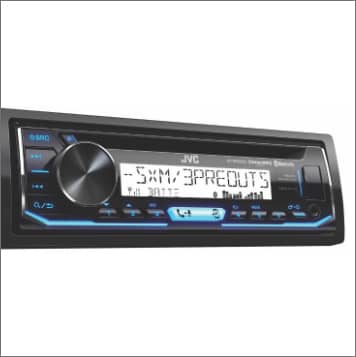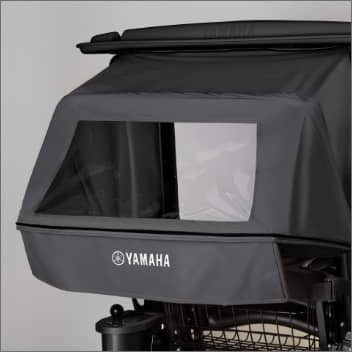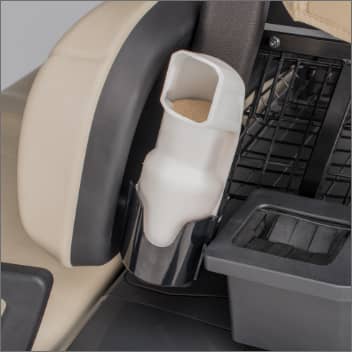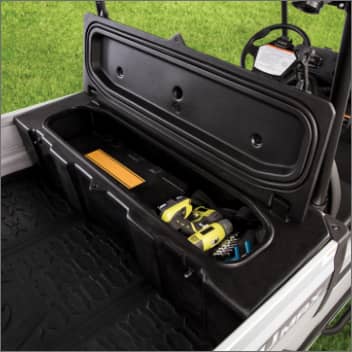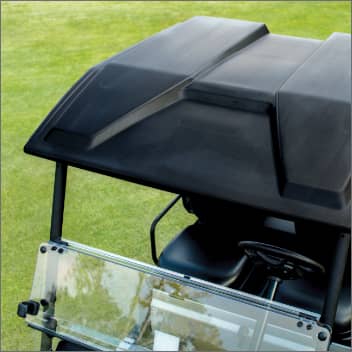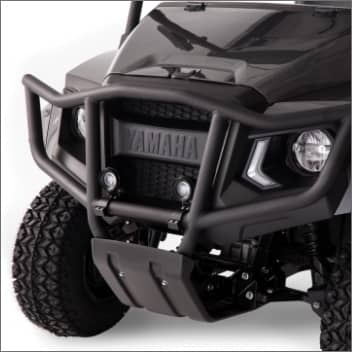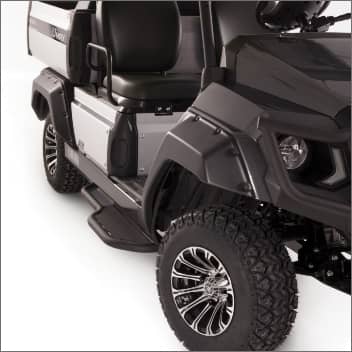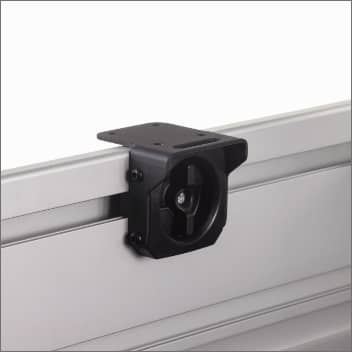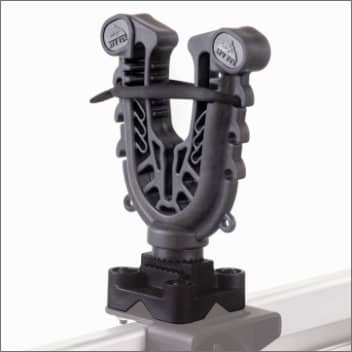 YAMAHA COOLER
Whether enjoying a day of shore fishing, riding through your community, or simply out exploring, our new and improved insulated beverage cooler for The DRIVE and Drive² will be the perfect companion. Re-engineered and rigorously tested to outperform today's coolers.
YAMAHA CLUB AND BALL WASHER
Just because your equipment gets dirty doesn't mean the game stops. Keep on pace by getting must-have accessories like our Golf Club and Ball Washer.
UMAX YAMAHA BACKLIT LOGO
Give your UMAX an intimidatingly gritty edge to the appearance of your front grill that'll make a statement wherever you go. Easily connects to factory headlight for plug-and-play wiring.
TRAIL TECH® MULTI-FUNCTION METER KIT
Easily gauge the time, your speed, accumulated run-time, distances, and more with our multi-function meter kit that will keep your essential info at-the-ready as you drive.
BACKLIT YAMAHA LOGO LIGHT
Add this Backlit Yamaha Logo Light anywhere from the front cowl of your DRIVE or Drive2 to your Wolverine or Viking® and even your truck or family car. (Plug-and-play installation on Drive2 PTV and Fleet models with Yamaha Genuine upgrade light kits.)
DRIVE2 PREMIUM PTV UPGRADE KIT
Features a plug-and-play upgradeable premium harness, all new phosphor coated chip-on-board (COB) module that features full-power flashing amber LED front turn signals, the all-new basic amber LED front turn signal chip-on-board (COB) module, 20-diode LED taillight and brake lights, front and rear LED turn signals, 4-way flasher, horn, and side reflex reflectors. Includes Yamaha's exclusive, automotive-style, premium turn signal stalk that incorporates the headlight on/off switch, turn signal handle, and integrated horn button.
DRIVE2 ULTRA-PREMIUM PTV UPGRADE KIT
Features everything from the Premium Kit, in addition to the all-new waterproof/dustproof premium white LED accent/amber LED front turn signal chip-on-board (COB) module with clear lens assembly, as well as the all-new 26-LED sequential stop-tail-turn rear lights.
DRIVE2 FENDER FLARE KIT
Add sporty styling for an aggressive, tough look and feel while providing an extra level of protection from mud and water. Fender flares are made from a durable, injection-molded polypropylene, UV-resistant material.
DRIVE2 FRONT BRUSH GUARD
Give your Drive2 protection on the front end while adding a rugged flair with this front brush guard that's designed to seamlessly integrate with the front profile all while creating a tough, aggressive look.
BFS™ BATTERY WATERING SYSTEM
Maximize the battery life of your Yamaha by using the BFS™ Battery Watering System that'll make routine maintenance a breeze. Low water levels in lead acid batteries are the primary cause of shortened battery life. Using a watering system saves time and money by filling the batteries simultaneously, providing a safer environment by reducing operators' exposure to battery acid, improving battery life and performance.
VINYL SEAT CUSHION ASSEMBLY
Give your car a unique look and more luxurious feel by replacing your original seats with these stylish black seats made from high-quality Morbern® XLP™ vinyl.
FIVE-PANEL MIRROR KIT
Drive with confidence knowing you have full rear visibility with our five-panel mirror kit that allows you to see everything behind you.
10" 12-SPOKE J-SERIES ALL-TERRAIN ALLOY WHEEL ASSEMBLY - SILVER
Make going off trail a breeze with this 12-Spoke J-Series All-Terrain Alloy Wheel Assembly that will give you better traction and a ready-to-rumble appearance.
10" CASINO ALLOY WHEEL ASSEMBLY - BLACK MACHINE
Dress up your Drive² with our 10" Casino Alloy Wheel Assembly that daringly mixes stunning angles with detailed, black-accented finesse.
SPRAY POLISH AND INSTANT DETAILER
This quick detailer will restore a lustrous shine to paint, chrome, glass, and smooth plastics like visors, windshields, and gauges. Gives textured plastics, rubber, and vinyl a beautiful satin finish. Anti-static properties repel dust and dirt to keep that shine.
FUEL MED RX
Prevent fuel system corrosion, improve performance, and extend the life of your Yamaha by using Fuel Med RX. Routine use will fight back phase separation, moisture damage, dissolve gum, and varnish in your carburetion system—all while extending spark plug life.
JVC® XM® SATELLITE RADIO/BLUETOOTH®
Enjoy connecting two phones for full-time voice connection, automatic pairing, 11 presets, 13-band graphic equalizer, two-zone variable-color illumination and more. With this outdoor-ready, Bluetooth XM/BT/CD receiver featuring K2 Technology for superior sound, you'll never cruise the same again.
Drive2 Cabana Club Cover
Keep the elements out and player performance undisturbed with this convenient protective cover for clubs by Club Pro Products ®.
Yamaha Sand Bottle Kits
Always have sand on hand with our updated sand bottle kits. These reconfigured kits have bottles that include comfortably integrated handholds (making them easy to grip with gloves), have larger square openings allowing for quick filling without removing the bottom lid, as well as an even flow of sand to fill divots more effectively. Available in single and dual bottle kits.
UMAX Cargo Bed Box
You've got a long workday planned. Leave none of your essentials behind with our heavy-duty, durable cargo box that doubles as a non-insulated cooler featuring an integrated drain plug. You'll enjoy easy installation and optimum capacity while matching your UMAX's uniquely rugged style.
UMAX Sun Top Kit
Guard yourself against the sun's glare, hanging brush, and other elements with the only sun top designed to completely match your UMAX in style and durability.
UMAX Cargo Bed Mat
Keep your cargo bed in "fresh out of the box" condition with our wear-resistant, durable Cargo Bed Mat. Made from a proprietary 10mm-thick, reinforced, engineered rubber that slows bed wear as it reduces noise and resonance when transporting cargo. Also, the mat's rough-and- tough styling perfectly matches your UMAX's look while the aggressive lug pattern helps prevent cargo from sliding.
UMAX Front Brush Guard
Venture on and off the trail with the added protection of one of our front brush guards that seamlessly integrates with the front profile of your UMAX. Additionally, protect the bold look of the grill, hood, and cowl longer.
UMAX Fender Flares
Guard yourself and your UMAX from even more debris with our wide, off-road, four-piece fender flare kit designed and engineered to perfectly match your Yamaha in every way.
UMAX FusionFit™ Bed Attachment Kit
Our FusionFit Bed Attachment Kit will help keep your rakes, shovels, guns, bows, and other long-handled tools always at-the-ready. Yamaha's FusionFit accessory system provides a tool- less design that allows you to "click and go" with only a quarter turn. An integrated padlock slot gives you the option to easily secure your cargo and go.
ATV-TEK V-Grip™
The ATV TEK V-GRIP offers a true custom fit for whatever tool you find yourself needing to carry. With effortless installation, unmatched versatility, and a rock solid mounting base, the V- GRIP design isolates recoil and vibration ensuring your tools stay where you put them.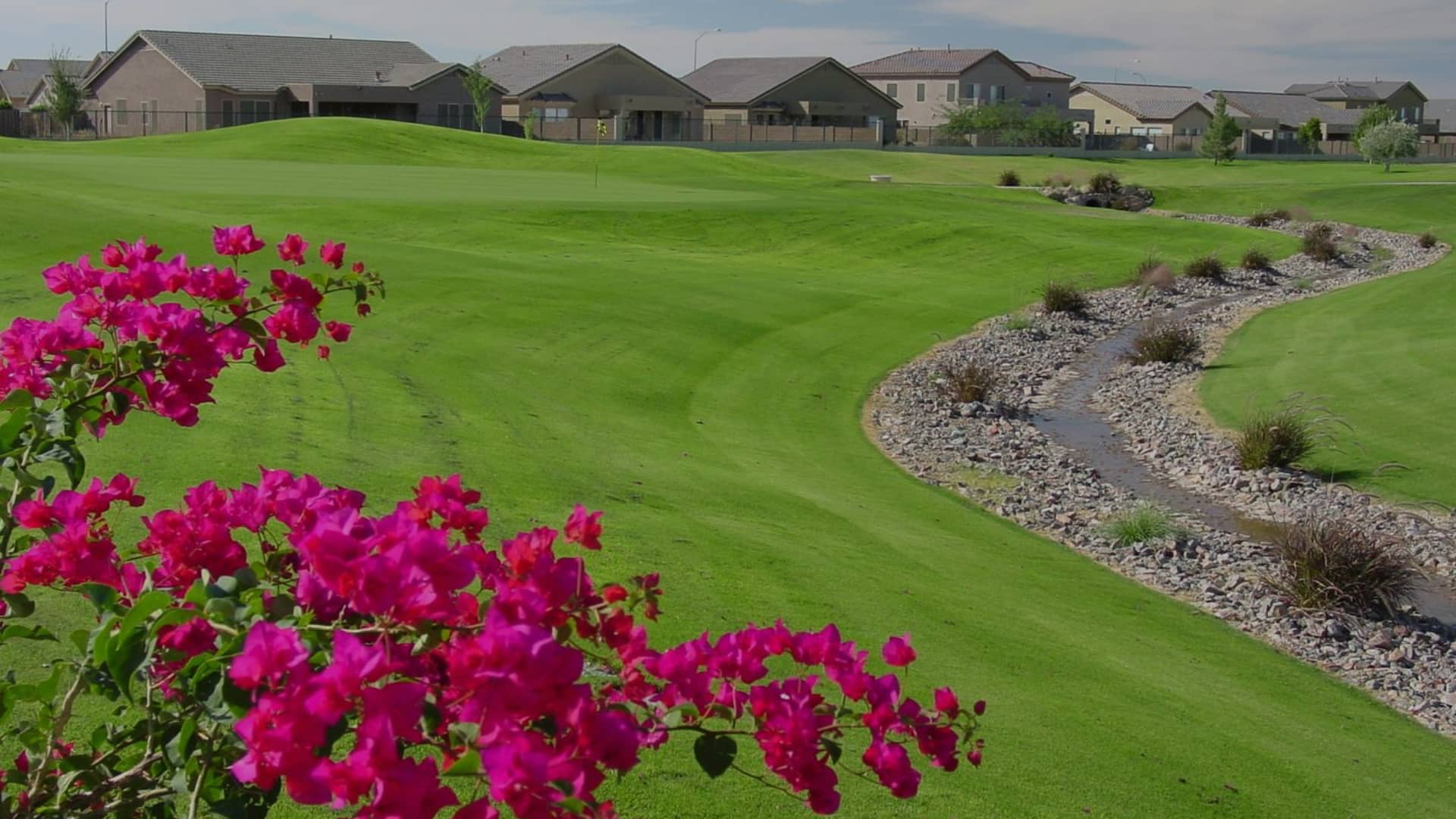 I am very happy with my Yamaha fleet, but I
am even happier with the attention to service.

Don Rea
Owner/Operator
Augusta Ranch Golf Club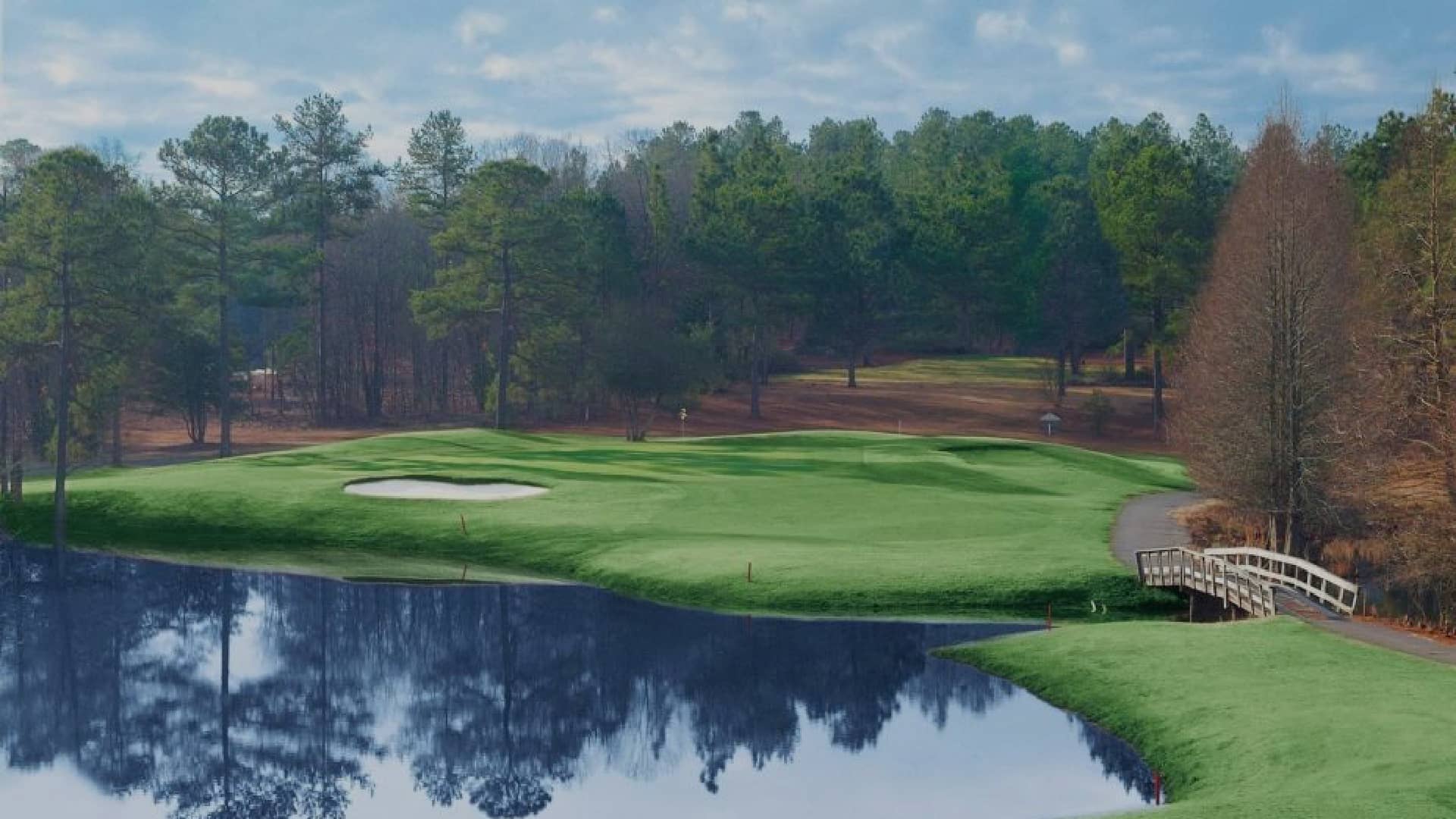 The suspension is absolutely tremendous.

Art Colasanti
Owner
Whispering Woods Golf Club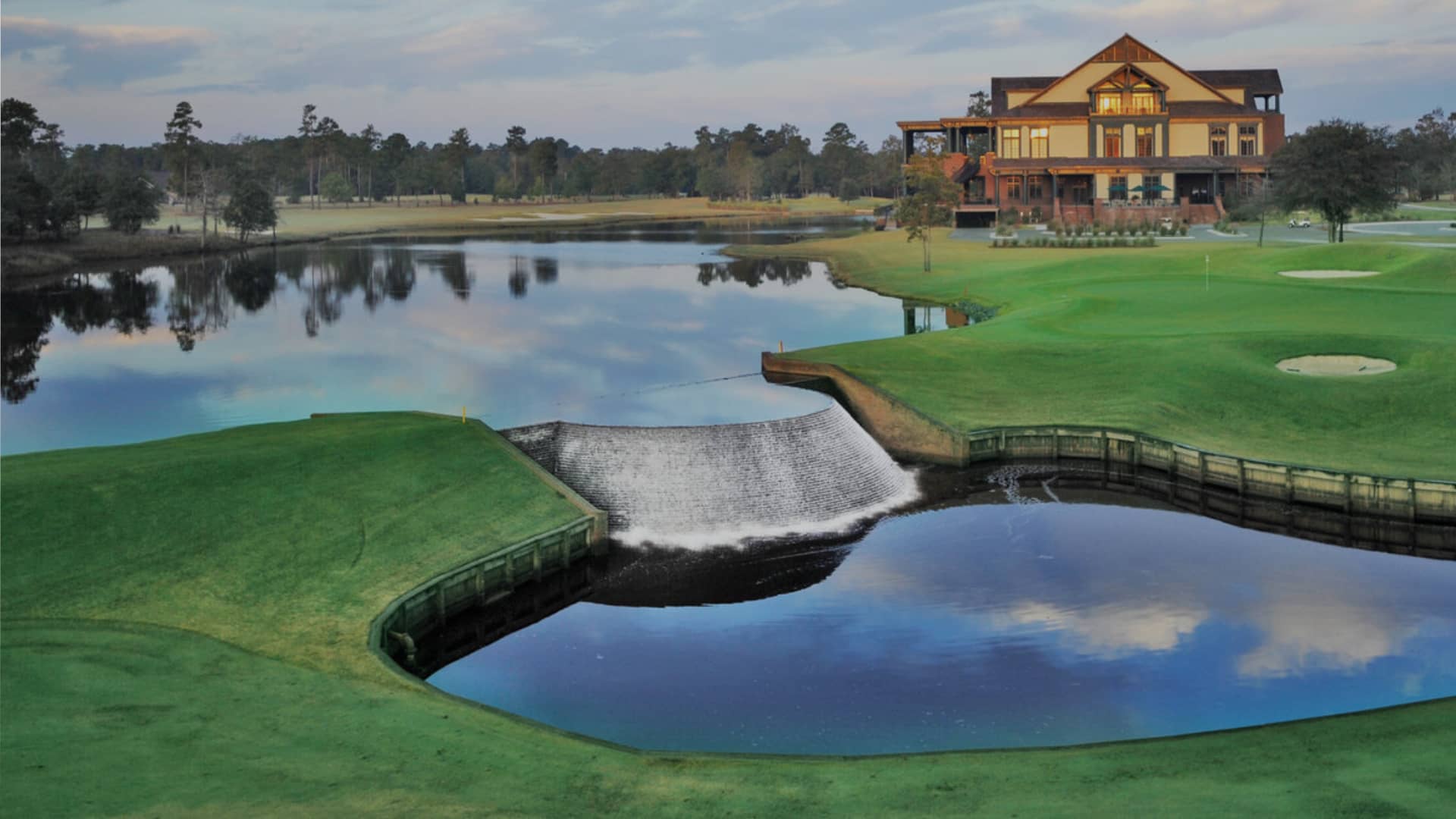 The tech reps have been fabulous to work with.
Whenever I need them, they are there for me every time.

Larry George
Owner
River Landing Golf Club
Previous Testimonial
Next Testimonial
CUSTOMERS WHO TRUST YAMAHA